The Federal Flexible Coupling is a true flexible shaft coupling, that absorbs vibration and helps protect the transmission from damaging shaft whip and misalignment caused by structural distortions. call for info- 708-352-2200

A Federal Flexible Coupling, replaces the old solid propeller shaft flange, and consists of a separate flange and hub. The flange is accurately bored to receive special rubber bushings, and the flange face is machined to properly match the transmission flange. The special neoprene bushings, with their bonded brass sleeves, are pressed into the flange at precise compression. Alloy spider pins slide though the bushings, threading into the independent center hub that accepts the propeller shaft. Federal flexible coupling- The result is terrific flexibility and dampening, while protecting transmission.

Many makes and models to fit variety of transmissions, HP, and shafts.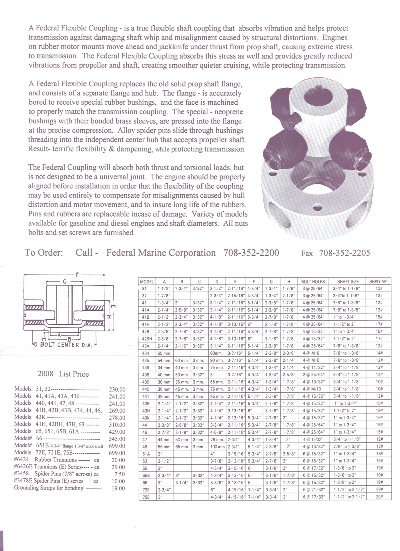 Federal Flexible Couplings ******** Since 1952

Phone- 708-352-2200 fax 708-352-2205

Call for brochure, pricing, and more information